Confused on if you should invest in both shaper and builder? What is actually the difference between them?! The likelihood is, at some point you'll need both. Think of CND™ PLEXIGEL as your new tool kit. You wouldn't choose between a screwdriver and a hammer for home improvements, so why choose between Shaper and Builder for your clients requirements? Trust us, you soon won't be able to live without both.... let me tell you why by starting of telling you what they do.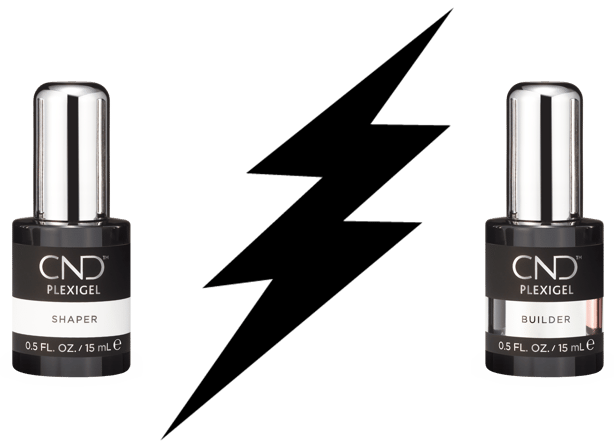 CND™ PLEXIGEL SHAPER
What is it? A crystal-clear brush-on gel enhancement and reinforcement that strengthens the nails for 3+ week wear. An absolute must-have to boost your gel-polish treatments. You can read much more about this here.


What does it do?

A strong reinforcement of the natural nail, and it repairs nails including filling in cracked nails, fixing broken or torn nails and shaping shapeless, flat nails. Plus, enables you to build a short free edge length when sculpted on a form. It's perfect for that one broken nail that needs a little extra length.




Why you need it?

Provides a strong, yet lightweight, crystal-clear layer of protection and strength to natural nails.
Perfect for a client who doesn't want length, but need additional strength to thin and week nails.
A thin layer for refining the surface of the natural nail for a perfect look.
Can easily fill in crack in nails on that one nail that broke.
Beautiful, crystal clarity ideal for nail art
The brush in a bottle makes it SO easy and efficient to work with.
Can be rebalanced or removed completely.


Let's see it in action
How to shape and reinforce the natural nail - ideal for thin and week nails under a gel polish treatment
Here is how you can fill in cracks in nails on that one broken nail
Here is how you add a little length and repair a broken nail
Want to see more? We actually have a free webinar specifically on how yo can use the SHAPER in greater detail! You can find it here / sign up for the next webinar here!
CND™ PLEXIGEL BUILDER
What is it?

A clear brush-on gel enhancement that provides length, strength and shape, allowing you to build out a beautiful long nail. I would advice that you build length on a form, but you can also use nail tips.




What does it do?

Creates strong, clear, lightweight (and when I say lightweight, I mean it!) medium to long enhancements, over a tip or form for customizable length. Builder has a self-smoothing formula allowing you to build an apex and architecture nails which require more a length transformation. Who doesn't like those long, beautiful nails that fits perfectly! And now you can also get Builder in Colors.




Why you need it?

Because you want to make long beautiful nails that lasts!

To customize the length and shape of the nail t fit the clients needs.

A self-smoothing formula for less filing and more perfect finish!

The thicker viscosity allows for greater control when building length.

The brush in a bottle makes the process so much easier and less messy

Can be rebalanced or removed
Let's see it in action
The perfect system to every need
Still not sure why you need both? PLEXIGEL is the perfect toolkit for whatever your client wants. Weather it is a strong reinforcement under a gel-polish for those thin and week nails (shaper), to fix a broken or cracked nail (shaper), add shape to flat and shapeless nail (shaper) or making long beautiful nail enhancements like you see on Insta (builder). So once you have the full system, you can cover every need - you just need to learn how to use it!
Free education
Like any nail system in the word, education and practice is needed to master the technique. We would be lying if we said you will master this in just 5 min! And to be honest, it would be offensive to you as a nail professional, because we know HOW MUCH time and practice it can take to master the techniques this job requires!
That is why EDUCATION and PRACTISE is so important to us! We want to make sure that you have all the tools and support your need to succeed! That's why we give you FREE education in the ICG app, along with webinars, classes and videos to give you support where you are. And we have highly educated customer care team ready to support you!
What does your colleagues say about it
″ I would like to let you know how excited I am about the new Plexigel. I've been working with Shellac for almost 10 years and thanks to the new Plexigel, the Shellac now lasts up to 4 weeks on my customers. Really a great product!
- Maja Clewing, Kosmetikstudio pur pur
″ Mega-fan of CND Plexigel 😍 Here I built up the nails in Plexigel builder, which is a bit less crystal clear than the Shaper. But still, they are super clear the tips and I love it. One of the many benefits of Plexigel is that filing and balancing on the product is a breeze. I usually explain it as the difference between butter and cottage cheese when spread on a soft French toast. 😂😂
- Lena Villaume Thorup
″PlexiGel shaper ❤️❤️❤️ And the customer here do Thai boxing 😳 These are thanksgiving nails, done on the 18th of November 2020. That's 21+ weeks (149 days) That's crazy...
- Paw Pedersen, Nails by Paw
″With PLEXIGEL™ Shaper and the new Future Forms, it's so easy to help a SHELLAC™ customer who has chipped a corner of a nail 🤩🥳¨
- Louiza Haarløv,