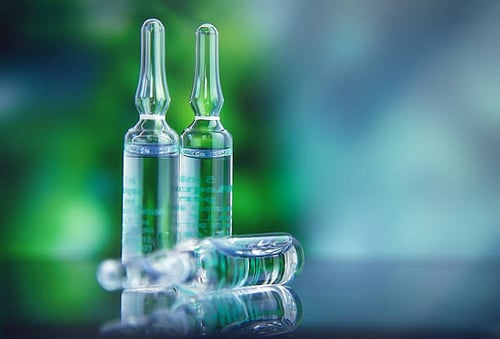 A huge trend we are spotting in the market is ampoules. What are they good for? Why does our skin need them and how do they fit in your daily routine?
You can think of ampoules as a "boo(s)t camp" for your skincare. They complement the products you already like to use and fits perfectly into a busy life where rinse-off mask are not easy to find time for.
Here is some more knowledge on the trendy skin boot camp providers: According to THE FUTURE OF FACIAL SKINCARE 2021, by Mintel, facial ampoules are among the fastest growing segment in Asia and US from 2018 to 2020, driven by consumer demand for better results Ampoules contributed to1% of all skincare launches in 2021, boosted by the trend of single-ingredient!
High Concentration
Ampoules represent that extra you can do for your skin in a very short time and without a long-term commitment to new steps in your daily skincare routines.
There's one for most skin conditions and with a high concentration of just one or very few actives, it will guarantee instant results. This mirrors the demand for more multitasking, fast working, and non-rinse intensive care, challenging the traditional Face Mask that must sit on the skin for several minutes to ensure results and must be rinsed off.
This will still leave the most enthusiastic types of consumers with a need for "more", especially in seasonal changes and other cases that leave the skin in need of extra support!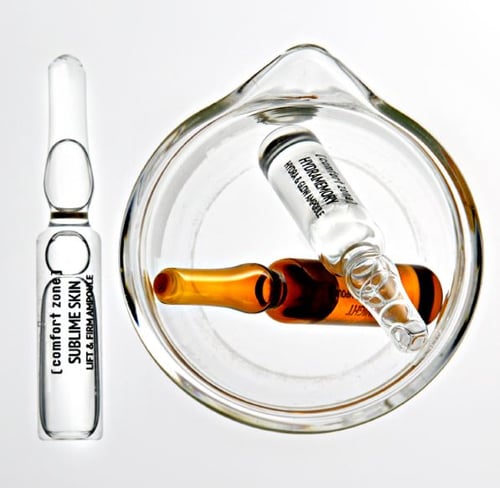 SHORT INCI-list: Single Ingredient Focus and NO preservation
Ampoules in glass vials only require minimal additives and preservatives, a 100% airproof environment leaves more room for the target ingredients to dominate the INCI list.
Renown superheroes ingredients like Retinol/Retinal, Vitamin-C, Peptides, Niacinamide, N-Acetyl Glucosamine, Polyglutamic acid, Hyaluronic Acid, Plant EGF (growth factors), plant Stem cells, and many others, all benefits greatly by this clean single-use, an airtight form of packaging, staying stabile and fresh until broken open for use.
Capsules also fall in this category of super trendy intensive skincare but if the packaging is not plastic but more organic material like algae, a bit more additives must be expected.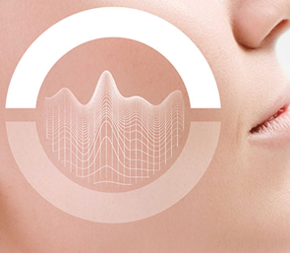 Where to start?
Well - why not take a look at the lift and firm ampoule from the natural filler line from Comfort Zone. Sublime Skin Lift & Firm Ampoule has:
ACETYL-HEXAPEPTIDE 1 A biomimetic peptide inhibiting muscle contraction mechanisms, scientifically designed to mimic the action of Botox. Surface wrinkles are reduced in both volume and depth.
PLANT EGF (Epidermal Growth Factor) A protein promoting skin regeneration and the synthesis of extracellular matrix components responsible for the fullness and tone of the face. It stimulates the natural production of hyaluronic acid, collagen, and elastin, which significantly increase skin elasticity.
MACRO HYALURONIC ACID A very active moisturizing and replumbing high-tech ingredient providing an immediate firming and lifting effect.
So there you have it. Natural filler with a high concentration of these 3 trendy you get: smoother, firmer skin, and your wrinkles and fine lines are less visible.
Do you want to learn more about the natural filler concept and maybe try it yourself, then sign up here?